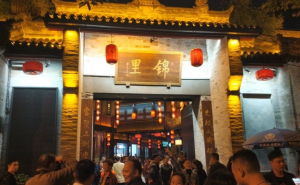 Jinli Old Street can be the most favorite street after you have visited some old streets in China. Or maybe in the morning, there are not many people. The town, it seems, is still sleeping. Even if the Jinli Old Street is serious in commercialization, it is still peaceful in the early morning. Every place seems to have a blessing. This is a kind of sustenance. The quiet alley may remind you of Wuzhen. There is a taste of Jiangnan water town.
In the evening, the red lanterns hang high, the entire Jinli Old Street is filled with folk music, when you walk in the flow of people, stop and go, you will feel that the night of Jinli is beautiful and antique.
Jinli Old Street is a commercial street carrying the culture of the Three Kingdoms and the folk customs of Chengdu, and the ticket is free. After visiting Wuhou Temple, you may wish to go shopping and eating delicious snacks in Jinli Old Street and enjoy the leisure life of Chengdu people. Compared with several attractions in the trip to Chengdu, you will find that the price of Jinli is relatively acceptable. For example, the same screen decoration, Jinli sells 58 yuan, and the wide and narrow alley sells 88 to 118 yuan.
Here, you can enjoy a variety of delicious snacks in Chengdu. You can find the ones that are delicious and cheap; but some food may be to cater to all tourists, so you always feel that the taste has been significantly improved, making it not authentic. There are also many folk craftsmen who set up stalls, such as paper-cutting, shadow-shadowing, pinching clay, pendulum painting, and egg-carving art. If you want to buy souvenirs, many shops sell handicrafts featuring pandas and three kingdoms. The price is also cheaper than that of the wide and narrow alleys. There is a very good cigarette shop, which is very large, and if you want to buy a cigarette, don't hesitate buy here, because if you buy it at the airport, it will be 20 Yuan expensive than buying from this shop in Jinli Old Street.