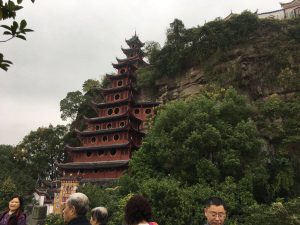 Shibaozhai has a total of 12 floors, and it is next to the Yangtze River. The Yuyin Mountain, which rises from the riverside, is like a goshawk that flies higher and higher, flying between the water and the sky. Do remember carefully walk into the building, the wooden floor trembled under the feet, and you will find out that each floor of the entire Zhailou is supported by several planks on the stone wall. There are no steel nails, no cement, no holes, only a tight bite. Gently stroking the miracle that is close at hand, you will feel the wisdom of the ancestors.
Shibaozhai is the first attraction in Zhongxian County. It is suitable for viewing at the distance. The old man does not recommend going there. First, they are unable to climb up Shibaizhai as it is very steep. Second, the suspension bridge is too swaying. Third, even if you climb up, when you come down, the steps are also very steep.
On the edge of the Yangtze River, it stands a hill like a bonsai. The mountain is beautiful and surrounded by green trees. A tower built on the mountain stretches into the sky, and a huge bonsai appears on the edge of the Yangtze River. It is Shibaozhai, which is an amazing attraction. It is the Pearl of the Yangtze River, and it is a natural bonsai of the river, which has been protected by the state. It can be described as a wonder, and when you view it, you will have an uncontrollable mood, then just take photos of Shibaozhai to balance it!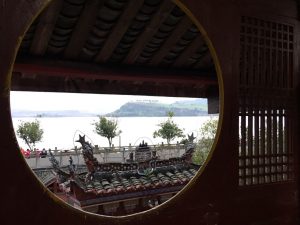 Shibaozhai really deserves the magical work of nature. Although it has been flooded and turned into a bonsai because of the Three Gorges Project, the miracles created by the karst landscape are still intact. The carvings of Shibaozhai are small and exquisite and unique.