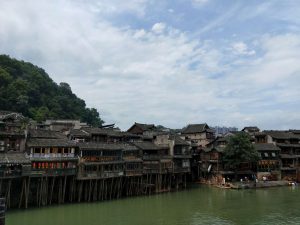 Fenghuang Ancient Town is located in the southwestern part of Xiangxi Tujia and Miao Autonomous Prefecture in Hunan Province. It is a gathering place of ethnic minorities mainly composed of Miao and Tujia. The ancient town has beautiful scenery and many historical sites. In the town, the ancient city building is made of purple red sandstone, the suspended buildings are built along the banks of the Tuo River, the ancient and simple style of the Ming and Qing Dynasties remains, the oil-green Tuo River flows quietly; the Nanhua Mountain National Forest Park is outside the town. In addition, there are some other famous attractions such as The Qiliang Cave of the City Art Palace, the Huangsiqiao ancient town which was built in the Tang Dynasty, and the scenic Great Southern Great Wall. There is not only beautiful scenery, but also has the rich flavor of ethnic minorities, and it is full of outstanding people and talents.
Fenghuang Ancient Town is a very good place for leisure, but the ancient town is not big, if you don't go to other attractions, it is recommended to spend two days there, and the night view of town is very beautiful, so if you come to Fenghuang Ancient Town, you must stay one night. It's really good to appreciate the beautiful scenery here. And you can look for a very casual place to sit down, chat, drink coffee, juice, or eat late at night, and see the night scene.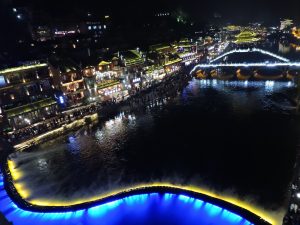 The morning fog of the ancient town is very beautiful, and the lights are very gorgeous at night. You can live in a Stilted building inn in the ancient town, which is located in the quiet Bar Street, so it will be quiet, and you can sit on the balcony to enjoy the wind bridge, fog bridge and waterwheel, which is very comfortable.