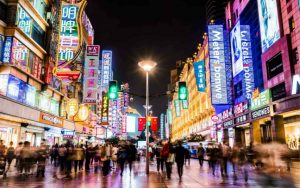 Nanjing Road Pedestrian Street is one of the top ten famous pedestrian streets in China and is the first commercial street established after the opening of Shanghai. This is a gathering place for department stores, with a complete range of goods and it is a paradise for shoppers. Creative urban sculptures can be seen everywhere, and there are plenty of chairs in the middle of the street for tourists to sit down and enjoy the literary fashion. On Nanjing Road Pedestrian Street, you can see the shuttle bus of the old version of the tram, which features very old Shanghai style. You may wish to experience it.
Time visiting for reference: 1-3 hours
How to go to the Nanjing Road Pedestrian Street:
1.Subway
You can take the subway lines 1, 2 and 8 to the "People's Square" station, exit from the 6th exit, and pass the sunken square to the western starting point of the pedestrian street.
You can take subway Lines 2 and 10 to the "Nanjing East Road" station, and exit from the 1st, 2nd, and 4th exits, which is the starting point of the eastern part of the pedestrian street.
Bus
You can take bus No.20, 37, 330, 921 to Jiujiang Road Huanghe Road Station, go east for more than 100 meters to the sunken square, and the tunnel is the western starting point of the pedestrian street.
You can take the city sightseeing tour line 1 to get off at New World City (west side of Pedestrian Street), or get off at Henan Middle Road (east side of Pedestrian Street).
Tickets: Free of charge
Opening hours: all day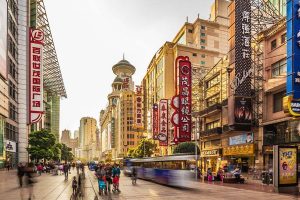 The prestigious Peace Hotel is located here. People are on both sides of the road in order. Come here, be sure to keep an eye on your backpacks and items, probably because of the weekend, it has reached the most beautiful time of the day, against the backdrop of various neon lights, the distinctive architecture is more beautiful; maybe it's too famous here, it's close to the People's Square to add luster to it, and the east is surrounded by beautiful scenery of the Bund, so many tourists come here. People come here to shop, or simply want to taste the food, or perhaps because of its long history, the endless story of history, etc. It is worthy your visit if you like shopping and tasting delicious food.