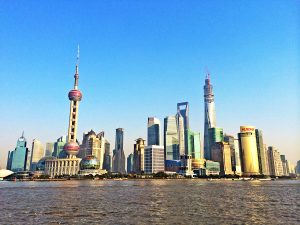 The Bund is located on the banks of the Huangpu River in the Huangpu District of Shanghai. The Bund at night is beautifully landscaped and you can fully enjoy the scenery on both sides of the cruise. For buying the ticket, you can check the ticketing address: Window 2, Huangpu River Tour Ticket Center, B1, No. 501, Zhongshan East 2nd Road, Huangpu District, Shanghai.
Before you take a visit to the Bund in Shanghai, just have some reviews from other visitors who went there before to know about their experience on visiting The Bund.
The Bund Review
In fact, Nanjing Pedestrian Street and the Bund are connected together. You can get off the subway at the Nanjing Pedestrian Street and then straightly go to the Bund.
Even though the weather was normal that night, I still felt that many people went to the Bund, and we felt that the flow of people was pushing us forward, but I heard that it is not so many visitors compared to that of other period, especially when it is the National Day Holidays, at that times we can't squeeze in the Bund.
When I first saw the night view of the Bund, I finally understood why we must go to the Bund to see the night scene when visiting Shanghai. It is really spectacular. It's a kind of feeling of "no doubt that the Bund is the world financial center". You really cannot describe it with any words.
On the other side are Shanghai's landmark buildings, including the Oriental Pearl, Jinmao Tower, Shanghai Center, Shanghai World Financial Center, etc., the colorful neon and the scrolling slogans, all of which make you feel the visual and mental impact of this fast-growing city brings to you. I originally wanted to enjoy the view of the Bund on cruise, but the weather was not good because of the date, so we finished the tour. Although I didn't make a cruise trip, I think it should be worth a visit.