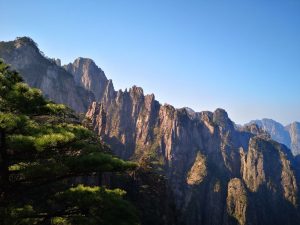 The West Sea Grand Canyon has thousands of walls which feature the majestic momentum, and the poetry of the peaks and the beautiful stone. It can be said that there is scenery everywhere, and you will feel it a great place to explore the charm of the nature. It's the most representative and stimulating, most attractive and shocking in the Yellow Mountains scenic spot. It is also the most beautiful place to showcase the wonders of nature and the magnificent mountains and rivers of the motherland. No other mountain scenic spot in the country can be compared with the West Sea Grand Canyon.
Visiting the West Sea Grand Canyon, you can take the ropeway, whose station to get off is set at the bottom of the canyon at an altitude of 1,209 meters and the station to get on is located at the stone bed peak in the Tianhai scenic area. The cable car is 892 meters long and the height difference is 497 meters. The maximum running speed is 8 meters/second and the cable car capacity are 60+1 person, and the designed capacity is of 800 people per hour. The cable car was opened on July 9, 2013 and put into operation.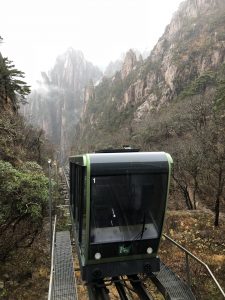 The West Sea Grand Canyon can be a dreamy scenic spot which is worthy of a visit, and it is featuring with strange rocks and steep peaks, and it is surrounded by clouds. The curved trails can bring you visual vibrancy. Although more than three hours of walking will make you feel tired, it is extremely satisfying. If you have the opportunity, you must visit the West Sea Grand Canyon in winter.
The West Sea Grand Canyon is a very nice place. The scenery is really beautiful. All the features on the top of the Yellow Mountains are here: Strange pine, fantastic rock peaks, sea of clouds, hot springs, especially the sea of clouds, which is very amazing. When you go down the mountain, you can choose to hike. When you go up the mountain, you can choose to take a small train.