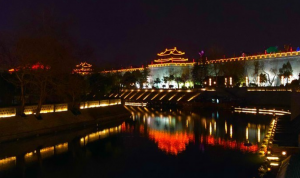 Xi'an Ancient City Wall is magnificent, which is not even losing to Beijing City. The domineering city wall is now envied by Beijing. The positioning of a ticket for 54 Yuan may be expensive in terms of the size and integrity of its city wall. When you catch up with the spring event offer, the 40 Yuan is acceptable. There are almost no shades on the wall to avoid the strong sun, so most people choose to visit the Ancient Wall in the afternoon close to the time of sunset.
Xi'an Ancient City Wall has a complete style of arrow tower, turret, and Barbican. The large masonry is engraved with the name of the manufacturing unit. Presumably this is a kind of method of handing down the name of the craftsman on the masonry. The name engraved on it is the quality guarantee of the masonry, equivalent to today's quality traceability system (if there is a quality traceability system today). You can ride a bicycle on the wall or take a battery car. In this way, you can fully experience the charm of the ancient capital of Xi'an.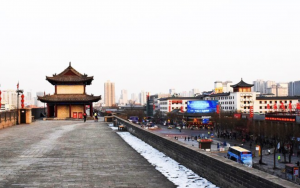 If you take your visit to the Ancient Wall at dusk, the round sunset gently hangs in the air, giving the ancient wall a thin warmth. Next to the north gate is the Xi'an Railway Station bus station. Standing on the wall and looking down, you will find the traffic is crowded, people come and go, and the city wall is like another world, which is wide and bright and silent. The wall is like a silent guardian. It is silently standing here, watching sun rising and falling, spring passing and autumn coming for a long time.
The total length of the city wall is more than 13 kilometers, which can be followed in the order of the North Gate – East Gate – South Gate. Bicycles can be rented on the wall, but there is a car rental point from the north gate to the west. If you don't want to walk, just take advantage of the opportunity to rend the bicycle.