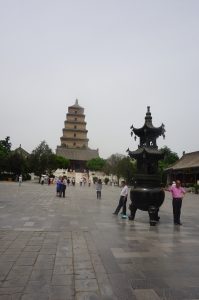 Dacien Temple and Big Wild Goose Pagoda are favorite spots for the trip to Xi'an. It is close to the Shaanxi History Museum. It is recommended to visit them at the same day. The transportation is convenient. You can check the bus line on the Gaode map. The temple is inside the Pagoda, and you need buy the ticket for the temple first, then you can enter into the Pagoda. After entering, you can choose to spend 50 yuan for a lecturer as needed. Or you can just walk slowly to view the scenery inside. You can enter every room and look at it carefully and you will get a lot of rewards. Most of the travelers there especially like the stories about the Sakyamuni and Xuan Zang Masters. You can see the Big Wild Goose Pagoda soon, but you need spend 30 yuan to buy a ticket to climb the tower. If you don't have a commentator, you can scan WeChat and listen to the electronic voice commentary.
The Big Wild Goose Pagoda was built by the Xuan Zang Master after he recovered the true scriptures from India. He asked the court to build it for collecting the scriptures. In the ages, the tower is not able to see the appearance that how many years it looked like, and when you reach the top, you can view the charm of the city. Of course, there are a lot of people. After you go out of the tower and sit under the tower, you will feel the wind blows, and you can hear the sound of the bell on the tower. It is very nice. In short, calm down here and slow down you pace.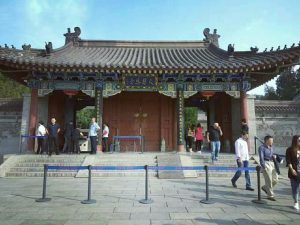 The seven-story tower of the Big Wild Goose Pagoda has a height of 64.52 meters and a base length of 25.5 meters. Now, the Big Wild Goose Pagoda is the landmark building of Xi'an City. There are many tourists, and foreign tourists who have a visit to the Big Wild Goose Pagoda. As the earliest and largest Tang Dynasty square brick tower, the Big Wild Goose Pagoda is a typical material evidence that the ancient Indian Buddhist temples were introduced into the Central Plains and integrated into the Chinese culture. It is also the wisdom of the ancient working people of China.