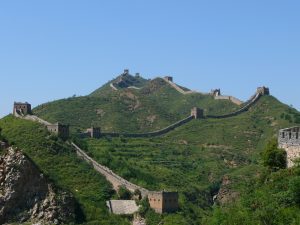 A lot of travel guides said that there are many people in the Badaling Great Wall and said it is better to go to the Mudaling Great Wall. But still there are a lot of people insist that you must go to the Badaling Great Wall, as it is really very majestic and it is worthy visiting!
There are several ways to go to Badaling Great Wall. There are buses to take near the bus stop directly opposite the road to the Zhengyang Building on the north side of Tiananmen Square. Or you follow the advice of the navigation to go to Badaling Great Wall by car. Or you can consider taking the subway to Deshengmen, then taking the No. 877 bus. Keep in mind that don't listen to people who are not in work clothes, and just line up with the bus queues even though you don't take the cable car! When taking the No.877 bus, it will cost 6 Yuan if you have the transportation card, and remember to slot card when you get on the bus and get off the bus. And if you don't have the transportation card, it will cost twelve Yuan.
Although it is high speed, it really takes more than two hours to arrive at the Badaling Great, because there is the traffic jam. You can look at the scenery along the way or make up your sleep. It seems to be more than an hour if take the train to Badaling Great Wall. The No.919 bus seems to be stopping at certain stations. Anyway, the No.877 is the direct access to the Badaling Great Wall! Before going to climb the Badaling Great Wall, it is recommended to have a full stomach and prepare plenty of water, so that you can physically climb the Great Wall and go down the mountain yourself. It is very fulfilling!
If you reach Badaling Great Wall too late, you can take the pulley, with 100 RMB for one way and 120 RMB for round trip! The pulley closed at 16:30 p.m, and the cable car closed at 17:00 o'clock!
It is recommended that if you have enough time, just go from first Building of the north to the bottom of the Great Wall. Feel the slowness and steepness between different towers! Do your best, remember to grab the armrest by the right and walk slowly. While experiencing the temperament of the Great Wall, experiencing the architectural power of the ancient builders when you are taking pictures of the amazing scenery!