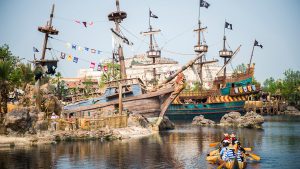 Shanghai Disneyland is the first Disney theme park in mainland China, with Mickey Street, Wonder Garden, Dream World, Adventure Island, Treasure Bay, Tomorrow World and Disney Pixar Toy Story Seven Theme Parks.
The park has the world's largest Disney castle "Fantasy Fairytale Castle", visitors can also meet many Disney friends in the park to experience a unique immersive experience.
It is recommended to download the latest Shanghai Disney Resort official app in advance, you can view the park map, waiting time, project and performance time, and you can receive a free electronic version of the fast pass, etc., it is a must-have APP to play in Shanghai Disneyland!
And you can follow Shanghai Disney Resort's official WeChat: ShangHaiDisneyResort to view the latest offers and activities of the park.
Official telephone number of Shanghai Disneyland: 400-180-0000.
Reference for time needed: 1 day.
How to go to Shanghai Disneyland:
Bus: Take Pudong No. 50, No. 51, No. 52 buses.
Subway: Take Subway Line 11 from Jiading North/Huaqiao and Disney Station, which starts daily from early morning until late at night. Trains are usually available every few minutes, which is very convenient and fast. Visitors can get off at the terminal station at Disney Station, exit at Exit 1 or 4, and walk 5 to 10 minutes to Shanghai Disneyland according to the signs.
By car: Visitors can drive to the Shanghai Disney Resort from the West Entrance (the resort elevated road) and follow the traffic guidance to the nearby parking lot.
Tickets:
Tickets from January 1st to December 31st during Monday to Sunday: 370 RMB for adult tickets/day; 670 RMB for adult tickets/ 2 days.
Opening hours:
From January 1st to December 31st during Monday to Sunday: 08:00 a.m.-20:00 p.m.
The Shanghai Disneyland is one of the best attractions in China, or even all over the world to enjoy while having travel with family, especially when you have kids, as or kids will have memorable experience there, and all of your family will fully enjoy yourselves there. But before making your trip to Shanghai Disneyland, don't forget having some reviews on Shanghai Disneyland so as to have some simple understanding there.