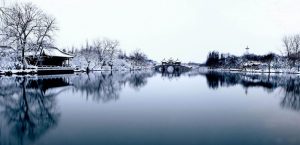 You may have heard from the adults that " Up in heaven there is a paradise. Down on earth there are Suzhou and Hangzhou. " Suzhou and Hangzhou are as beautiful as paradise on earth. Hangzhou, known as "paradise on earth", is inlaid with a shining pearl, that is, the West Lake.
When you come to the West Lake to board the cruise ship, and the cruise ship slowly proceeds to the center of the lake. Staring at the river, the river is so calm, with only a small ripple. The waves sparkle and the water ripples, the surface of the water is glowing. You can see the broken bridge. The bridge in the fog is gray, and the Bai Causeway is like a black ribbon, with the waves rolling up and down. Looking to the shore, a breeze blew, and the willow branches on the lake dance like a dancer with green wide sleeves to welcome you. The gesture was charming and moving. The beauty of the West Lake lies not only in the lake, but also in the mountains surrounding the West Lake. There are Longjing mountain, Yanxialing, Nanpingshan, Lantau Peak, Lingyin mountain, BeiGaoFeng, and Mount Edelstone. They are like the heart of the moon and hold up the pearl of the west lake.
The scenery of the West Lake is superb, the lake is quite comfortable, and the public facilities are also perfect. It's great to have a leisurely appreciation on the scenery around while sitting on the lakeside stools. The West Lake is a must-see spot in Hangzhou. There is fountain in the evening, in the northeast corner of the San Park, you need to go to there early to occupy a good position. When visiting the broken bridge, the night view is awesome. The West Lake is full of scenery. If you have time, look for one or two small scenes, walk slowly, breathe in the fresh air, and think about life. You don't have to play it once, use the free time to make reasonable arrangements.
If you go to the West Lake by subway, then take the subway to Longxiangqiao Station, Exit C is Yintai, and then go straight along Yintai to the West Lake, and then go slowly to the right along the shore of the West Lake. And the broken bridge is about one kilometer far away. Just enjoy your travel in West Lake.