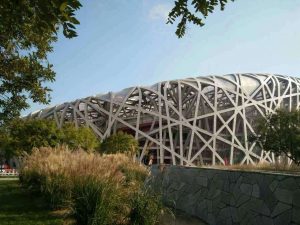 Located at the northern end of Beijing's central axis, the Birds Nest (National Stadium) is the main stadium for the 2008 Beijing Olympic Games. It has become one of Beijing's new landmarks in recent years due to its high-end atmosphere and numerous international competitions and the unique appearance.
The exterior of the stadium is woven into a "bird's nest" by the intertwined steel. The curved lines of the high and low undulations make it look like a rhythmic life. The shape is very visually impactful. The Xiangyun Torch Tower, originally placed at the top of the Birds Nest, is now moved to the Torch Plaza on the northeast side of the Birds Nest and can be seen outside the stadium.
For the internal point of view, the interior of the Birds Nest is densely packed with nearly 100,000 red auditoriums. At the same time, some exhibitions that are related to the construction of the Birds Nest and the Olympic theme are displayed. This is the content that can be visited inside the Birds Nest by purchasing a 50-yuan ticket.
If you buy a 80-yuan Birds Nest Air Corridor (referred to as "Dingmei") ticket, in addition to the above content, you can also take the elevator at the fifth floor to the top of the Birds Nest: the place where the original Xiangyun Torch Tower was located. Through the steel nest eyes under the foot, the vertical and horizontal steel structure, and the landscape inside the Birds Nest are unobstructed; and you will have a panoramic view of the surrounding Linglong Tower and the Olympic Park landscape avenue; you can also overlook the Beijing City. If the weather is good, you can even see the outline of Jingshan Park in the south.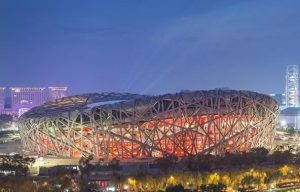 If you buy a VIP ticket of 110 yuan, then in addition to visiting the content of the 50 yuan ticket tour, the Birds Nest air corridor, and there will be additional VIP area, golden hall, golden passage, magnificent and elegant lounge, which will make your tour in the Birds Nest wonderful.