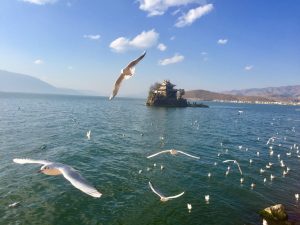 Erhai Lake, located on the east side of the Dali ancient town, if famous for its blue water and wonderful landscape and the unique villages and towns on the lakeshore. Staying at Erhai Lake, cycling around the lake, and taking the boat trips are all great options for feeling the atmosphere of Erhai Lake. Erhai Lake has three islands, namely, Jinsuo Island, Xiaoputuo and Nanxun Fengqing Island. There are villages such as Youcai Village, Xizhou, Shuanglang, Wase, Haidong, etc., each with its own characteristics. You can choose to live anywhere in the lake, as they all have elegant inns for you to choose from, or you can live in the Dali ancient Town. Walking between the villages and towns, looking at the distant Cangshan Mountain, smelling the rapeseed flowers everywhere, soaking up the sun, and spending a leisurely day without knowing it, you will fully enjoy your trip in Erhai Lake.
Erhai Lake is a delightful plateau lake. You can quietly enjoy the beautiful scenery and and drink coffee at Erhai Lake, and you can spend a morning or afternoon lazily. Erhai Lake can be played by two ways: one is riding along Erhai Lake, the other is taking the boat cruise on Erhai Lake. A lot of people think that the riding along Erhai Lake is more funny. It is best to rent the electric car from the innkeeper. And do remember to charge the electric car while riding around the lake.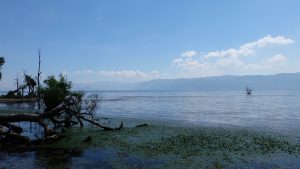 The beauty of Erhai Lake lies in its tranquility, and it is surrounded by the misty mountains and it has the unique blue sea and blue sky. Going to Erhai Lake must be in sunny days, when the clouds on the Cangshan Mountain are floating, the sky is blue, and the lake will also be blue and beautiful. There are many seagulls on Erhai Lake, which gives you the illusion that it is the real sea. In short, Erhai Lake will show you multi-faceted charms, no matter which one, it is a gift from nature.