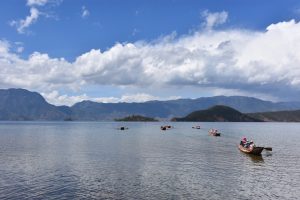 Lugu Lake is a magical place. It is located in Ninglang Autonomous County of Lijiang City, the lake is 2,685 meters above sea level. Sitting on the boat of the "Mosuo people", you will feel the lake is like a green jade, which is so crystal clear, and clusters of red-billed seagulls are flying on the water, to forming the picturesque scenery. The mysterious "Mosuo people" is still pursuing the matriarchal clan of "Men do not marry, women do not marry", all that attracts you to embark on this mysterious land.
The road from Lijiang to Lugu Lake is good, but there are many corners, so be careful. Along the way, you can enjoy the beautiful natural scenery, the 18 bends of the mountain road, and the magnificent Jinsha River. When you enter the gate of the territory of Yunnan, you have to pay 100 yuan/person. Standing on the first viewing platform behind the ticketing point to overlook the Lugu Lake, you can sense the beauty of Lugu Lake is beyond your imagination. Self-driving is the best way to play in Lugu Lake. From the observation deck, along the S307 Provincial Road, Daluoshui, Dayuba, Xiaoyuba, Lovers Beach, Lige Island, Nisai Island, then you can stay in Xiaoluoshui. The hotel is about ten meters away from the lake, from where you can watch the stars in the dark, and see the sunrise in the room in the morning. The scene is so fantastic that only requires personal experience. The next day, you can continue to drive around the lake, pass by the Lugu Lake Town, the wedding bridge, the museum, Caohai, another lake and wetland, you will enjoy the mountain scenery and humanities. It is worth coming again!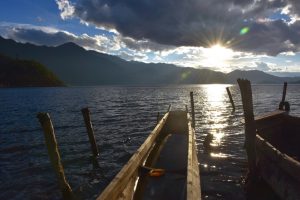 The Lugu Lake in the observation deck quietly exudes a unique blue color, which is so mysterious and seductive. Walking into the boating lake on the Lugu Lake, you will feel it another fun to get close to the seagulls. Every angle of the lake is so beautiful and you will surely like Lugu Lake.