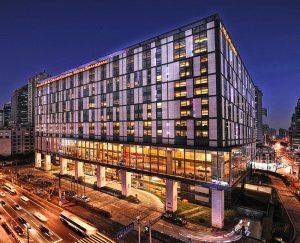 The location of the hotel is bustling and the surrounding transportation is convenient. The hotel's interior is exquisitely decorated, and the crystal-clear spherical ballroom is suspended in the center of the building like a night pearl. Hotel health, services, facilities are very good.
The hotel is located in the business and leisure circle of the Bund-Nanjing East Road, adjacent to the famous Nanjing East Road Pedestrian Street, making shopping and convenient. The hotel is only 3-minute walk from Shanghai Metro Line 1, Line 2 and Line 8.
The hotel has indoor pool, fitness room, massage room, hairdressing and beauty center and other leisure options. The hotel offers luggage storage, full-time baggage, travel ticketing and postal services. It has conference hall, business center and multimedia system function room.
It is very big, very luxurious and very comfortable. Featuring warm colors, the details are high-quality gold, and you will like it very much. The big bed is also comfortable. The best is the location, which is very convenient to eat snacks, shop, or watch the night scene.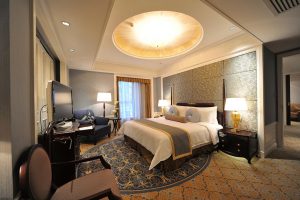 The hotel is decorated in a good style, the lobby is luxurious. In the coffee shop on the first floor, you can enjoy the romantic atmosphere of Shanghai city, the second floor is French restaurant, the third floor is Baoyuexuan where you can taste Cantonese cuisine, the fourth floor also has oval ball type banquet hall. The facilities of the hotel are still very good and the price-performance is very high. For the large bed luxury business room, the room is golden tone, which looks so high-end and luxury. Especially the faucet, shower and towel rack of the bathroom are all golden yellow color. The bathroom space is very large, with dry and wet separation, and the water pressure is great when taking a bath, you will feel it very satisfied! The bedroom bed and pillows are very soft and comfortable to sleep. The sofa next to the bed is very comfortable to sit or lie too. The cloakroom in the room is very reasonable and you can change clothes inside.