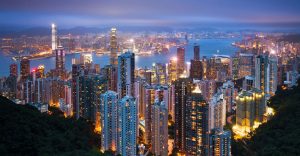 The women love shopping, the children love playing in Disney, and you can come to feel the bustling in Hong Kong; but the essence of Hong Kong lies in his night, you can go to Lan Kwai Fong in Central to order a cup of Red wine and then stay up all night, or take a cruise on the Star Ferry, or take the Peak Tram to the top of the Victoria Peak to see the glamorous nights of Victoria Harbour and the rhythm of Hong Kong neon lights.
In Hong Kong, also there is peace, just go to Lantau Island and experience the interlacing of time; go to the sea bay and enjoy the romance of the sea breeze; go to Stanley and taste the old European style; go to Lamma Island and let the mind do a yoga; go to Saigon to find the old fishing port style, but also let you see a different Hong Kong.
The Victoria Peak is one of Hong Kong's landmarks and the highest point in Hong Kong, where you can overlook the Hong Kong City. It can take the retro red cable car to the top of the mountain, with a total length of 1,350 meters and 5 parking stations in the middle. It is the earliest cableway system in Asia. The Lingxiao Pavilion is the most conspicuous building on the top of the mountain. The 360° viewing platform on the top floor is a perfect place to overlook the Victoria Harbour. It is recommended to come at night as the night view is very shocking. In addition to the Linglong Pavilion, there are also good sights such as Madame Tussauds and the Peak Post Office on the top of the mountain. Don't miss them either.

Telephone phone:
Peak Tram: +852-25220922; The Peak Tower: +852-28490668
Visiting Time duration reference: more than 3 hours
How to go to there:
Take the 15C bus to get off at the Yamagata Cable Car Station of Central Garden Road; or take bus no. 15 at Central Pier 5, Bus No. 15B at Causeway Bay (Tin Hau Station) and Central Bus No. 1 to the Peak.
Tickets: Free
Tips:
Adult Ticket for Peak Tram: HKD 28 for one way and HKD 40 for two way.
Opening hours: all day
Opening hour: Peak Tram 07:00-24:00