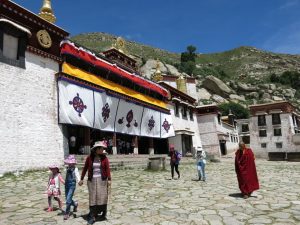 Sera Monastery is located in the northern suburbs of Lhasa. It costs about 40 yuan when going there from the city. The Tibetans in the scenic area are free to open. Tickets for other tourists are 50 Yuan/person.
After entering the scenic spot, some temples are still being renovated, and large trucks are driving in and out, which is very dangerous. The main halls and the shacks are very beautiful, especially the murals and Buddha statues which are created hundreds of years ago are invaluable. It is recommended that everyone is civilized traveling and loves cultural relics.
Sera Monastery is well known to outsiders for its dok, but Sera Monastery not just has debate. Walking on the path, you can turn around every corner of the temple and feel the past of the Sera Monastery.
After 15:00 o'clock in the afternoon, there will be many halls closed. It is recommended to visit the Sera Monastery in the morning or at noon. In the afternoon, you can take a look at the debate.
At the gate of the Sera Monastery, there are not many believers. Instead, there will be more tourists than believers. They are all rushing through the wonderful debates.
The Sera Monastery is not as grand as Drepung Monastery, not as solemn as Jokhang Temple, but the debate of the Sera Monastery is definitely the most distinctive and the most one that cannot be missed.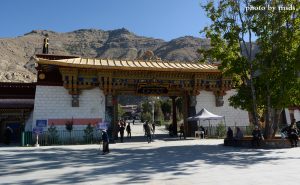 After watching the debate, you may feel that it is just like watching a wonderful performance, and basically you still don't know that they are debating. Perhaps its charm is to let people feel that under the pure blue sky and white clouds of Tibet, there is piety, simplicity and concentration of faith, which is wonderful!
During visiting the Sera Monastery, you will see a lot of Thangka murals and exquisite paintings, which make people feel the strong Buddhist atmosphere. The monks in the hall are chanting, and you may look forward to their simple life.