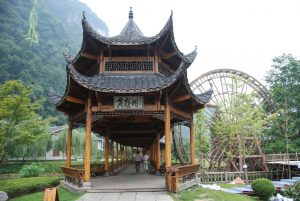 In the Huanglong Cave, it is warm in winter and cool in summer. If you enter Huanglong Cave in summer, remember to take a coat. This is very necessary, as the temperature inside is low. If you don't have a jacket, you will feel cold when you are on the boat inside the cave. It takes about two hours to play in Huanglong Cave. Everyone must follow the guide as there are many people inside and you will easily get lost.
The stalactites displayed in Huanglong Cave of Zhangjiajie and Yinziyan Cave of Guilin are the same topography. The difference between these two attractions is that the large waterwheel group in front of the Huanglong Cave is rare in China. The area inside the Huanglong Cave is large. The shape of the stalactites is very good. You can also take a boat inside the cave and it is very interesting.
The stalagmites and stone pillars in the Huanglong Cave here are not common white and taupe color, and most of them have stopped growing. The view in the cave is awesome. The scenery on both sides of the dark river is also very beautiful. There will be professional explanations to lead the team to explain more details about the attractions inside.
Huanglong Cave is a natural cave. When you are traveling there, you will be marveling at the wonders of nature. The Dinghai Shenzhen is the most famous inside the cave. Many people are squeezing to take photos, and the whole journey takes about two hours. The cave has a large area and a subterranean river. You can view the stalactites of different shapes along the winding steps, or take a boat along the dark river to see the beauty of the two sides. It is really dazzling.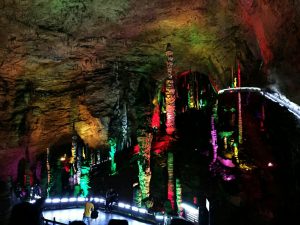 The stalactites, stalagmites, stone pillars, stone flowers, stone scorpions, stone branches, stone pipes, stone pearls, stony corals and other caves formed by the calcareous solution are all over the place in Huanglong Cave, which are dazzling, beautiful, large scale with rich content. The beauty of the scenery has almost covered all the contents of "cave studies" and is the "all-round champion" of the world's caves.