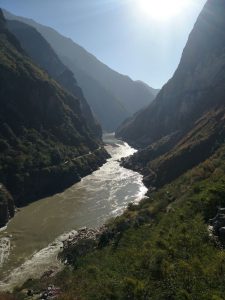 Tiger Leaping Gorge is known for being odd, dangerous, mighty and strong. Among them, the upper tiger leaping gorge is famous for the "gorge narrows" and "Tiger Leading Stone", the Middle Tiger Leaping Gorge is famous for the risky "Mantianxin" and "First Line Sky", while the Lower Tiger Leaping gorge is famous for its wide river and the beautiful scenery.
The historical precipitation of Tiger Leaping Gorge is very good! Here you can see more tree fossils that has longer history than China's five thousand years. The Tiger Leaping Gorge is divided into the upper tiger leaping gorge, and the Middle Tiger Leaping Gorge and the Lower Tiger Leaping gorge. The tiger leading stone in the middle of the Jinsha River makes people think about why it is called the Tiger Leaping Gorge. The road from the bus parking lot to the car parking lot is well built. The trails are down the mountain, and down to the Jinsha River, where you can see the collapse of the river constantly hitting the tiger leaping stone but standing still.
Tiger Leaping Gorge can be a suitable attraction for people who like hiking so much. It is also a holy place for Chinese trekking. However, it is necessary to allocate physical strength reasonably, otherwise it may be more embarrassing.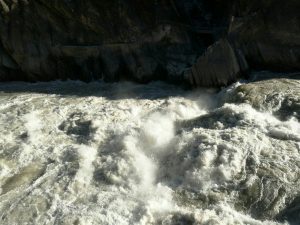 The momentum of the Tiger Leaping Gorge is indeed magnificent. Standing on the edge of the canyon and listening to the sound of the rumble of water, it is inevitable that you will have awe. The upper tiger leaping gorge is relatively mature and well-managed, and the service facilities are also complete. There are steps, which are safe and convenient, but you can only stand on the viewing platform. The tour of the Middle Tiger Leaping Gorge is more participatory. You can go directly to the river to see the water potential and get close to the Jinsha River. After entering the scenic spot, the sun is shining and hot. When seeing the rolling water and the mist, and touching the roaring Jinsha River so close, you will feel it so shocking!