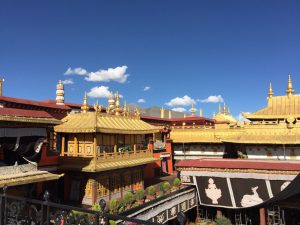 The Jokhang Temple is a true sacred place in the hearts of millions of Tibetan believers and has supreme status in Tibetan Buddhism. In particular, the devout worshippers who are in front of the temple really will let you feel the power of faith. The Jokhang Temple, located in the center of the old city of Lhasa, Tibet Autonomous Region, is a Tibetan Buddhist monastery and the earliest civil structure in Tibet. It is recommended to ask a guide to explain more deeply. Photographs can be taken outside the temple, but taking photos is prohibited in the main hall. The golden dome of the Jokhang Temple is shining, which cost more than 40 million to build! Numerous gold and bronze sculptures are vivid and beautiful, and the Potala Palace can be seen from the terrace on the second floor of the Jokhang Temple. The ticket for the Jokhang Temple during the peak season is 85 yuan / person, in addition to the Jokhang Temple, the ticket-free attractions also include the Potala Palace, Everest, Lake Nam, and other district-level tourist attractions!
In general, the Jokhang Temple is the place where every person who comes to Lhasa must come, whether you are a tourist or a believer. It is the highest-ranking temple in Tibetan Buddhism. Although its architecture is not grand, it is a classic of Tibetan architecture like the Potala Palace.
The chanting in the Jokhang Temple usually begins in the afternoon. It is the same meaning for the Tibetan people to see a chanting in the Jokhang Temple and to see the national flag in Tiananmen Square.
The observation deck on the second floor of the Jokhang Temple has a limited bearing capacity. You can see the scene of the worship of the square in front of the Jokhang Temple, and you can also look at the mountains in the distance.