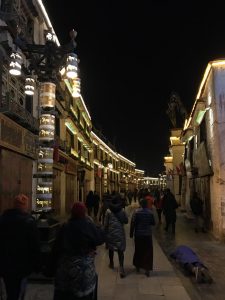 The Barkhor Street is an important passage for Tibetan Buddhist monks and believers to worship and pray. The Barkhor Street is surrounded by the Jokhang Temple. It is a concentrated version of Tibet's history, religion, folk customs and trade. If you don't go to the Barkhor Street, you cannot see the Jokhang Temple; if you don't go to the Barkhor Street, as if you have not been to Lhasa; a lot of people feel that the Barkhor Street before dawn is the purest, the strong religious atmosphere makes people moved! In Barkhor Street, you can taste food from Tibet, India, Nepal, etc.; buy jewelry and ethnic handicrafts; observe and experience unique Tibetan folk customs and cultures nearby; it is an ideal place for sightseeing and worshipping Buddha.
Barkhor Street is the second place to that must be visited in addition to the Potala Palace, for your Lhasa trip. It is also the way for the locals to worship. There are very few people stopping to watch the worshippers, except for a few tourists, it maybe because people are used to it, and regard this as part of life. There is a famous restaurant in the Barkhor Street, called Makye Ame, and there are really many people in the restaurant, and the price is more expensive. However, it is a good place to learn about the lives of local people.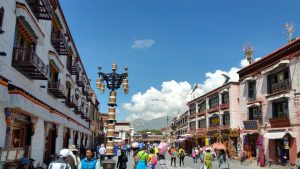 Everyone who enters Barkhor Street and Jokhang Temple Square needs to pass the security check, scan the ID card, check the backpack before entering, and Barkhor Street is a place worth visiting. It is not only near the Jokhang Temple, and it is the most prosperous place in Lhasa. It is surrounded by a lot of sweet tea shops, restaurants, western food, so you can experience the local style. As for the time of play, it can be 1 hour or half a day, all depending on your needs. Because there are many lanes, you can go deep to experience more there.