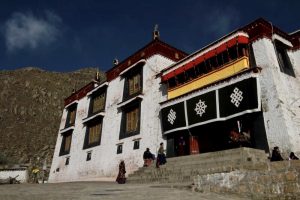 As the largest temple in the world, Drepung Monastery has a maximum of more than 10,000 people, and the tour there takes about 3 to 4 hours. There are countless halls in Drepung Monastery, the most famous of which are the Gandan PoZhang Hall (5th Dalai Palace) and the Cuoqin Hall.
Drepung Monastery has a very good idea. The road signs in the temple are very clear. It is not just the main tour route. You often see an arrow on the wall, which says you can visit here and feel afraid that you will miss any corner during your trip there. Like Tashilhunpo monastery, there are some people explaining the attraction for you in Drepung Monastery, so that you will better understand its history and culture. If you visit it by yourself, you can look at it step by step and look for inadvertent scenery.
Here are some tips for you to have better experience on your trip to the Drepung Monastery:
a) Drepung Monastery is located in the west of Lhasa, about 10 kilometers from the Potala Palace. Because the bus stop of the Drepung Monastery Scenic Area is the gate, there is an uphill mountain road about 1 km away from the entrance of the temple ladder, and the Drepung Monastery is also built on the mountain, so it is still necessary to climb the mountain. So, you don't have to waste your physical strength outside the sights.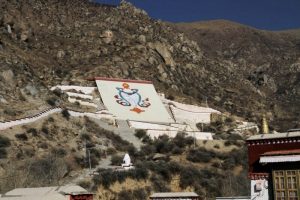 b) In June of the annual Tibetan calendar, the general calendar is August, and at that time the Grand Buddha-shining (Thangka shining) event will be held during the Sho Dun Festival.
c) Drepung Monastery has a debate field, but it seems that there is no fixed time for debate. And you can view it in the afternoon if you are interested in it. It is a very shocking scene there.