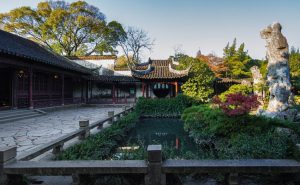 Lingering Garden is famous as the Humble Administrator's Garden, and it is not so bustling. In the vast sea of people, it is a comfort to escape the crowd. The scenery here is well appreciated, and the elegance of the classical garden is charming and you may meet antique photography there.
A lot of visitors really feel that the garden doorway in Suzhou is not too fancy, which looks like a normal gate, you would ignore it if you pass by. Many attractions of other places have big arches, but the gardens in Suzhou feel very simple. The Lingering Garden is one of the four major gardens in Suzhou. It is even one of the four major gardens in China. If the Summer Palace is compared to the Princess of the Royal Family, then the Lingering Garden is the daughter of a humble family, looking shy and kind. You may just feel a little disappointed when you see the door for the first time as it is so simple. But when you go inside, you will find out that there are a lot of amazing scenery.
Stepping into the scenery, Lingering Garden is truly reflected here. Every garden in Suzhou is the killer of camera memory. All the details of doors and windows, floor tiles, show incomparable ingenuity. Most of its windows have a lot of geometric shapes, because it was also a large house before, so many windows have wooden openwork. You will think the big point of Suzhou garden is the design of doors and windows. It feels that it takes a lot of design to conceive.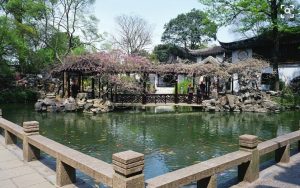 The experience of Lingering Garden is even better than that of The Humble Administrator's Garden. The garden is small but exquisite. It takes 2 hours to turn around until the door was closed. If there are two more hours, you would listen to the explanations of all the attractions. The toilet in the Lingering Garden is greatly praised, which is clean and well equipped. The main thing is that there are not many people in Lingering Garden, and there is no crowded queue as in the Humble Administrator's Garden. In short, Lingering Garden is worthy your visit.