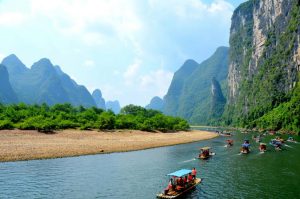 The biggest feeling of being in the Lijiang River is nothing but beauty. This beauty with a worldly atmosphere is probably only acceptable to the Li River. Like a fairy with a fireworks, the reason why it is called a fairy is simply because of beauty. However, the trend is even more intense, but it does not affect the beauty of Li River. This kind of beauty is natural, straightforward and amazing. It turns out that beauty is not the kind that has to be maintained and decorated, that is, the fact that it is natural and beautiful. The beauty of Li River is eye-catching, which make the language congested, and the beauty can be so outstanding. This is obvious.
In fact, there are a lot of things to play along the Li River. For example, take a bamboo raft, go to the place of the back of RMB 20 yuan to take photo with the 20 Yuan, or go to the Laozhai Mountain.
The scenery along the coast is a continuous landscape painting. People touring in the Ri Liver will feel a great joy, and what comes after it is lingering! There are mountains, water, and mountains for cooking, water for wine, and you can feel it delicious, without regrets in the life! The mountain is also eyebrows, the water is also rouge, then you can smell such a fragrance, and it is really refreshing and pleasant. Then, in addition to feeling that you are already a fairy, you may only feel the fascination of the Li River.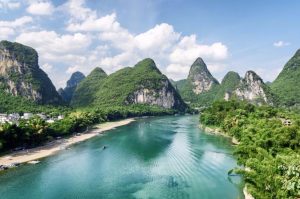 You can walke slowly on the shore of the Li River, and sit on the stone bench and wait quietly for the sunset. The slowly disobedient sunset climb over the Li River and the entire sky is dyed into pink color. The clouds are pink too. They are many tourists sitting on the banks of the Li River and watching the beautiful sunset. There are many parents who bring their children to play on the Lijiang River. Many photographers are waiting for the awesome scenery after sunset. The landscape of the Li River, together with the beautiful sunset, makes it even more fascinating.