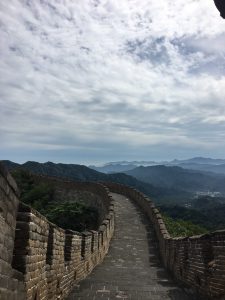 The Mutianyu Great Wall has a unique architectural style and there are dense enemy buildings. The Mutianyu Great Wall mostly were built on the steep side of the outer side of the cliff to take the advantage of the mountain. The wall of the Mutianyu Great Wall is seven or eight meters high, and the top of the wall is four or five meters wide. The building materials are mainly granite, which is majestic and sturdy. There are 22 enemy buildings in the 2,250-meter section of the Great Wall. There are 4 enemy buildings from the 1st tower to 4th tower within the distances of less than 500 meters. This dense distribution pattern of enemy buildings is not available in other Great Walls.
Most tourists walked up the Great Wall on the trail of climbing the mountain. There are two trails in the scenic spot, starting from the two ticket gates in the north and south. You can walk from the north ticket gate to the 10th and 8th tower to climb the Great Wall. Or you can walk from the south ticket gate to the 8th and 6th tower to climb the Mutianyu Great Wall. The distance between these two trails is similar, about 1500 meters. If you don't want to spend too much energy on the trail, you can choose to take the cableway next to the North ticket gate. The cableway station is located near the 14th tower.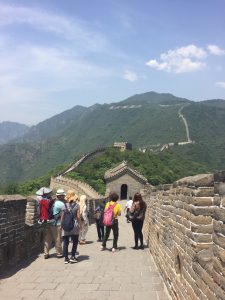 The Mutianyu Great Wall features the most beautiful scenery among the whole Great Wall, no matter from the majestic momentum of the Great Wall or the experience of tourism, it has completely surpassed the Badaling Great Wall. Therefore, choosing the Mutianyu Great Wall tour will let you experience the charm of the Great Wall.
In short, if you don't want to get crowded during your visit in Great Wall, the Mutianyu Great Wall is your best choice. The Mutianyu Great Wall is not too steep. The young people who have plenty of time can also climb the mountain there without taking the cableway. You will enjoy your trip in Mutianyu Great Wall.