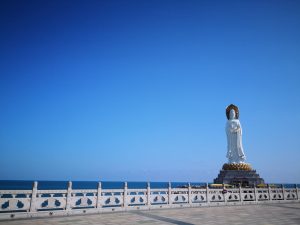 The ticket of the Nanshan Cultural Tourism Zone in Sanya takes 150 yuan/person. There are battery cars inside, and the battery car tickets are 40 yuan for one person. Nanshan's core attractions are three South China Sea Guanyin. There are incense in the scenic area for you to pray for free, but if you want better incense, you need to buy it yourself, and the price is calculated according to the size of the incense. After entering the door, after passing through a Buer Gate, you can see the statue of a Guanyin hand pointed by an orchid, and there are prayer wheels on both sides. This is a bit like Tibetan Buddhism.
The attractions that come all the way include Luohan Temple, Bodhi Woods and other scenic spots. There are stone statues of 18 Arhats at the entrance of Luohan Temple. There are pieces of Bodhi trees in the Bodhi Woods. It is said that Buddha Sakyamuni is enlightened as a Buddha under the Bodhi Tree. The Bodhi Tree is also called the Tree of Wisdom, but there are more than 180 kinds of Bodhi trees in the Nanshan Cultural Tourism Zone in Sanya. Arriving at the innermost is the core attraction: Nanhai Guanyin statue. If you want to go up to the statue, you need to buy another ticket. The Nanhai Guanyin statue is still very shocking. In the center of the South China Sea, after passing a bridge of nearly 200 meters, the statue of Nanhai Guanyin of three sides is in front of you.
It is very worthwhile to go to the Nanshan Cultural Tourism Zone, as the price-performance is super high, and you can go up and down the battery car in the scenic spot for many times. The 108-meter sea goddess of mercy is a must-see attraction. There is also a Nanshan Temple worth visiting. There is a vegetarian meal in the scenic spot. It is 38 yuan/person for the lunch at noon. You can have a taste.