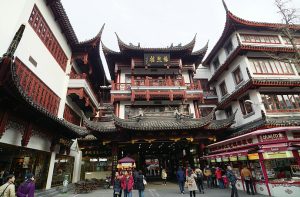 Old City God Temple is located in the center of Shanghai. It reflects the customs of Shanghai people.
Strolling around from the Nanjing Road Pedestrian Street, eating all kinds of delicious food all the way, and walking east for about 2 kilometers, you will arrive at the lively Shanghai Old City God Temple. In Shanghai, this street stretching from the vicinity of Old City God Temple to Nanjing Road has the taste of old Shanghai. It is the favorite street for so many travelers. The architecture of the Republic of China in Shanghai is vividly presented in front of you. And there are the tram lines all over the sky. Both sides of the road are full of foreign-style buildings. This is the old Shanghai, this is favorite city for so many people traveling there.
From the subway station of Yu Garden, you have to go through the small street on the side of the City God Temple, which is a food street, and there are many foods to eat, and if you visit there during the Lantern Festival, there are many lantern decorations and large lanterns on the street. This road is full of shops which are characterized by the classic garden style. The night of the Old City God Temple is splendid, and there are many shops selling specialty products, food, souvenirs, gold pearl jewelry, silk and so on. And the day is livelier, as it will close at 21:00 o'clock in the evening. In the evening, you will feel the night view of the Old City God Temple is beautiful.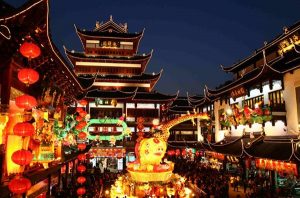 Some people may not feel the historical atmosphere of an ancient temple here. The antique buildings are contiguous, but every household opening stores to do business may make you feel the modern atmosphere of shopping. Looking into the distance, tall buildings rise from the ground, antique buildings and skyscrapers coexist in such a small circle, perhaps it is the helplessness of the development of modern cities, and this is the charm of the magic city of Shanghai.