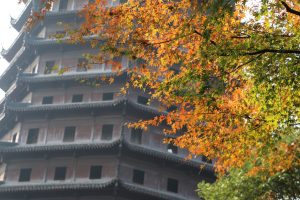 After you climb the Six Harmonious Pagoda, you can watch the panoramic view there, which is truly spectacular and worthy a look! Six Harmonious Pagoda actually has 13 layers, seven layers can be seen and the other six layers are invisible and each double layer cannot be climbed up, so when you climb up 1 layer, it is actually equivalent to two layers of tower height. Each layer is hanging with one plaque that is said to be titled with four words starting from one to seven by Kangxi. It is also a reminder of the floor for the descendants. Because the tower has a long history, the stairs are rotating, the steps are very narrow and a little steep. There is a circle on each floor to see the Qiantang River. The top of the tower is the highest and best observation point to view the Qiantangjiang River! Even if the visibility is not very high, you can still feel the broad river.
Because it won't take too much time to finish your visit in the Six Harmonious Pagoda scenic area, so it is not recommended to stay overnight in the surrounding area, because as it is close to the scenic spot, the price of the hotel is much higher. Hangzhou's special snacks are good. You can arrange the time to try it. For Six Harmonious Pagoda, you can arrange it for half a day to visit. Yes, you can also arrange 1-day trip go to Songcheng scenic area to have a visit and experience the night view of Hangzhou. The per capita consumption will be around 150 yuan a day, which is still good.
The Six Harmonious Pagoda in Autumn is more beautiful, with leaves of various colors, and the tower's architecture, you will feel it captivating. The autumn scenery is also colorful in the scenic spot. It is very convenient to the bus station and parking lot of Six Harmonious Pagoda. If you are lucky, you can also go to the nearby river to see the tides of the Qiantang River.