The Potala Palace is very close to the Jokhang Temple. It is 20 minutes from the Jokhang Temple. It is a place for taking pictures. There are many believers kowtowing in the door of the palace.
The Potala Palace in April is still the winter in Tibet. In order to promote winter tourism, Tibet's main attractions are free of tickets, including the Potala Palace. However, there are only 2,000 tickets per day, and there are only a few hundred scattered tickets. It is impossible for oneself to queue up buying the tickets one day or two days in advance. So, you still need to spend money to join a local 1-day group. Of course, having a professional tour guide is also good for you to have better experience while visiting Tibet.
The outer walls of the Potala Palace are painted once a year, so even though it has a history of thousands of years, it is still as new. The paint is mixed with milk, honey, white sugar, etc. in white ash, and is carefully brushed by the believers.
The Potala Palace has only four colors, red symbolizes authority, white symbolizes peace, black symbolizes solemnity, yellow symbolizes prosperity, the roof and windows of the palace are made of wooden structure, the corners of the house are raised, and the copper tiles are gold.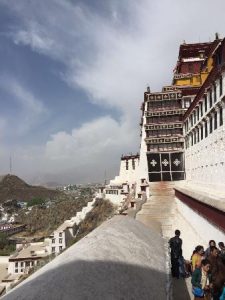 From the White House to the Red Palace, you can take pictures. After entering the Red Palace, you can't take pictures. There are time limits. You must complete the tour within an hour. There are quite a few stairs to climb and you need some physical strength. In addition, there are toilets with the highest altitude in the world. You can experience it.
It is said that because there are too many tourists coming to the Potala Palace every year, the foundation of the Potala Palace is in danger of sinking. Maybe the Red Palace will not be open to the public in a few years, so if you want to have a look at these treasures, just take time, you will have an enjoyable tour in Tibet.