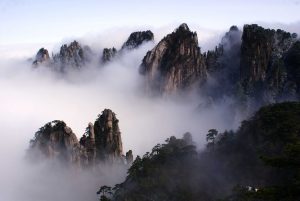 The Yellow Mountains is located in Huangshan City, southern Anhui Province, which has 72 peaks. The main peak is the Lotus Peak, featuring 1864 meters above sea level. It is also known as the main peak of the three major Huangshan Mountains with Guangmingding and Tiandu Peak, and it is one of the 36 big peaks. The Yellow Mountains is the symbol of Anhui tourism and the only mountain scenery in China's top ten scenic spots. The Greeting Pine of the Yellow Mountains is a symbol of the warm and friendly people of Anhui, carrying the oriental etiquette culture that embraces the world.
Touring the Yellow Mountains is suitable for all seasons, because the scenery of the four seasons in The Yellow Mountains is different and each season has its own style. You must wear a raincoat if it is not a sunny day! The rain in the Yellow Mountains is just a matter of casualness. Although it is not a dumping, it will definitely make you feel uncomfortable. Secondly, the clothes you wear must be simple and neat, or you will feel the burden when you go down the mountains. In addition, the cheapest noodle on the mountain costs 60 Yuan/ bowl, so it is best to prepare try food in advance. Starting from the mountaineering, the whole journey takes about 5 hours of walking time. This is still a relatively fast walk. It is more suitable to prepare 2 bottles/person. Of course, there are also water sold on the mountain, which is slightly more expensive.
Take the bus to the Tangkou transfer center, then buy a ticket, which is 19 yuan / person. This place sells bus tickets, not the tickets for the Yellow Mountain scenic spot. Every 20 minutes there will be one bus coming, in the peak season, it is said that you need spend 2 hours queueing for taking the bus to go up the mountain. After entering into the scenic spot, there are two lines: one is from Yungu Temple, and other one is rom Ciguang Pavilion, and both are ok. Take the bus to Yungu Temple, although there is beautiful scenery along the way, it also shakes very strongly.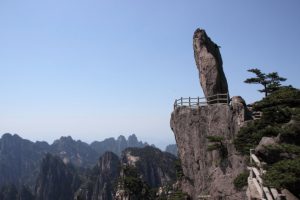 Greeting Pine and Flying Stone are famous attractions in the Yellow Mountains.
From CiGuang pavilion to Greeting Pine there are two ways to go uphill: 1. Take the cable car up to the mountain which will take 15 minutes; 2. Walk up to the mountain which will take 3 hours on foot (on the premise of not going to Tiandu Peak).