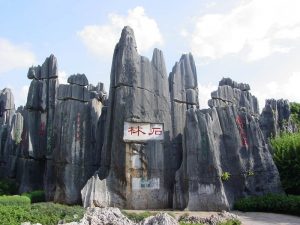 There are many tourist attractions in Kunming. The West Mountain of Kunming is like a sleeping beauty and lying on the top of the Dianchi Lake. The long view of the Daguan Upstairs describes the magnificent feeling of the 500-mile Dianchi Lake. The statue of Chen Yuanyuan in the Golden Temple stands in the heart of the lake. After centuries of vicissitudes, things have changed.
The main geological relics of Stone Forest World Geopark are karst geological features, which are karst geological parks dominated by stone forest landscapes. The stone forest preserves and displays the most diverse karst forms. The tall limestone columns such as sword, column, mushroom and tower are typical representatives of the stone forest. In addition, there are caves, stalactites, dissolved lakes, natural bridges, cliff waterfalls, cone-shaped peaks, etc., almost all the karst forms in the world are concentrated here, forming a panoramic view of karst geological features.
Official telephone number of the Stone Forest: 0871-67711439; 0871-67710699
Visiting time reference: more than 3 hours
How to go to the Stone Forest:
At the Kunming East Bus Terminal, take the tourist train to the Stone Forest Scenic Area. The fare is 34 yuan/person/time. During the period from 8:00 to 18:00, the train departs when it is full of people and the journey takes about 2 hours.
Tickets
Ordinary ticket during Monday to Sunday from January 1 – December 31: Ticket 175 RMB, discount ticket 130 RMB, half-price ticket 87.5 RMB;
Half-ticket: people who is 6 years old (excluding 6 years old) – 18 years old (including 18 years old).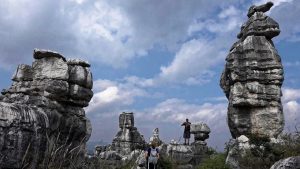 Free of charge: children under the age of 6 (including 6 years old) or 1.2 meters (including 1.2 meters), 70 years old and disabled.
Tips:
Tickets for Dadieshui Waterfall is 18 yuan/person, and tickets for Changhu Lake is 10 yuan/person.
Opening hours:
08:00-18:00 during Monday to Sunday from January 1st – December 31st.