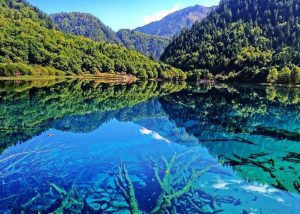 It turns out that Jiuzhaigou is so beautiful, although there is no blue sky, the feeling of smog is as if it is in a fairyland. Only people who are immersed can feel it. And your photography technique only depicts the beauty of one tenth of Jiuzhaigou! The smog is lingering in the mountains, and it is almost like the fairy mountain described in the costume mythology drama!
Everyone said that the autumn of Jiuzhaigou is very beautiful. In fact, if you want to see the water, you have to come in the summer. Jiuzhaigou in Autumn is gorgeous, maple leaves are red! The waterfall in Jiuzhaigou is fascinating!
Generally, Jiuzhaigou can't be visited all spots for a day. Because it's too big, if you want to view all the scenery there, you have to spend two days there. If you just walk around, then one day is enough. In the ditch, it is stipulated that in order to protect the environment of Jiuzhaigou, it is impossible to live in the ditch, but there are still many people living in it.
Jiuzhaigou is distributed in "Y", the upper left of "Y" is the long sea, the upper right is the original forest, and the lower side is the scenic gate to the Shuzhenggou waterfall. First of all, the passengers are pulled from the doorway to the Spark Sea, and then walk to the rhinoceros sea. The people are rushing to the rhinoceros sea to get rid of the crowd. There is no stop on the road. It is not easy to get on the sightseeing car by the rhinoceros sea. At this time, you have not choice, because you don't know whether the car is to the Long Sea or the original forest, as it is always deployed by the staff in the ditch, in order to disperse the tourists inside the ditch.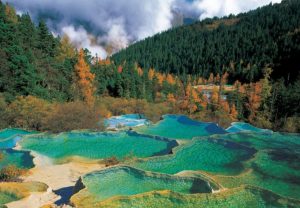 However, the tour group first visit the line of Shuzhengzhai Waterfall in the morning, then rush to the original forest, and return to Nuorilang to eat Chinese food at noon, and visit the long sea in the afternoon, so as to avoid the crowd.
Anyway, no matter how will you go to visit the Jiuzhaigou scenic spot, it is a fairyland that will surely make your tour there enjoyable and unforgettable.