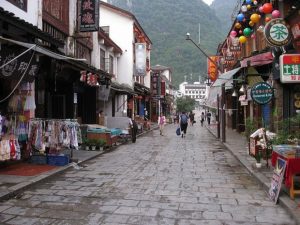 In Yangshuo, Mountains and Rivers are everywhere. The water in Yangshuo is clear and transparent. The Li River in Yangshuo stretches more than 100 kilometers, and the mountains and waters are the most exquisite part of the scenery of the Li River. There are the wonder of the world: lotus rocks, the thousand-year-old banyan, the moon-hole wonders, and the Yulong River, which is known as the "Little Li River".
Most of the attractions in Yangshuo require tickets, and the price is slightly more expensive. If you plan to play more attractions, it is recommended to book tickets online in advance or purchase travel packages at the ticket office and travel agency. The West Street, which has been in existence for more than 1400 years, is the oldest bustling street in Yangshuo and one of the important tourist attractions in Yangshuo. West Street is a collection of vocabulary such as foraging, shopping, and clubbing. Because of this richness and variety, it has become a unique and beautiful landscape of Yangshuo.
The street of less than 1km is made of stone slabs and has a curved S shape. The houses on both sides are simple and elegant, with the style of northern Guilin in Ming and Qing Dynasties, featuring small blue tiles, sloping roofs, white powder walls and hanging balconies. The street is full of various tourist souvenirs. The shops on both sides are both Chinese and Western styles. Almost all the signs are in Chinese and English. The waiters can serve the tourists with fluent foreign languages.
When you have a trip to the West Street, the beer that has long been famous as the first dish of Yangshuo must been taste, which is fat but not greasy, and it is spicy and palatable. In addition to the food, there are many bars there. When the night falls, it is livelier than the day.
Time needed for visiting: 1 day
Transportation: It takes 5-10 minutes to walk from Yangshuo Bus Station.
Tickets: Free
Opening hours: all day