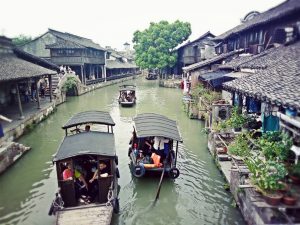 Wuzhen is located in Tongxiang City, adjacent to Nanxun District of Huzhou City in Zhejiang Province. It has a long history of more than 1,300 years. It belongs to the six major water towns in the south of the Yangtze River. Whether it is from Shanghai, Suzhou, Hangzhou, Shaoxing, you can take a high-speed rail, or take the intercity express free travel, and a day trip to there, as it features great accessibility.
If you go to the East Bank of the Wuzhen Water Town, you will enter from West Street and follows the river to the Shuangyuan Bridge to the opposite attraction area. Go along the bank all the way until the Mao Dun Memorial Hall. From the exit, there is a drama stage as well as the Chinese shadow puppetry. Going left and going straight, you will reach the Huiyuan pawn shop. And these are the attractions on East Bank. Then you can go back to the hotel to have a rest and go to play the West Bank at 16:00 or 17:00 pm. There is a free boat ride to the opposite side of Anyuan Square. You can have a play by following the attractions, mainly along the bank of the river. To sum up, during the day, you can look at the old houses at East Bank, and the night tour of West Bank is the highlight of Wuzhen. The overall feeling will be very good.
There are many hotels and inns in the West Bank area, all of which are managed by the government. The cost ranges from low to high. Living in the scenic area is convenient for you to play, and you can better experience the night scene of West Bank. There are also many hotels and inns outside the scenic spot, and the price is cheaper than that of the scenic area.
Special Note: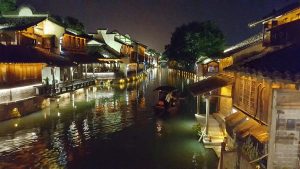 Sitting on sculling boat is a very popular experience in Wuzhen, which is available on both East Bank and West Bank. The boat must wait till there are full of person on the boat.
You can go to the old post office to send a postcard to your relatives or friends, and they will see a unique postmark when they receive it.
During the holiday or Wuzhen Drama Festival, Wuzhen is very crowded, you're your accommodation in the West Bank area needs to be booked early.