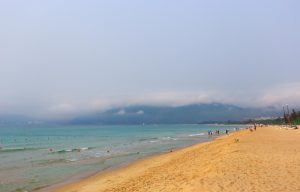 Yalong Bay's sand is super white, the key is that this is a luxury resort! Rows of hotel resorts vary in style and even appreciating the charm of the architecture there will take a long time. If you are lazy, go to Yalong Bay to stay at the hotel. It is comfortable, beautiful, and very advanced. Yalong Bay is far away from downtown Sanya. The living and tourism facilities here are more comprehensive but expensive. Sanya has two of the most beautiful highways, one is the well-known Yalong Bay Road, the other one is the coastal road leading to the Park Hyatt Sun Bay.
There is no traffic jam in the off-season in Sanya, and there are not many people taking buses. Many buses can take you to any attraction within 20-90 minutes. Yalong Bay, Wuzhizhou Island, West Island, Dadonghai, Xiaodonghai, the End of the Earth and the Corner of the Ocean, all have beaches and play facilities. If you enjoy watching the sea and diving, you must go to the Yalong Bay, where it will refresh your concept of the sea. And you can watch the performance in Sanya Qianguqing. To take a wedding photo, please go to End of the Earth and the Corner of the Ocean and Yalong Bay Forest Park. In the off-season, 4 stars sea view room can be booked at the price of more than 300 Yuan by online booking. Economy Apartment Inn's Sea View Room of 100 Yuan can offer you the environment such as that of 300 Yuan hotels.
There are so many delicious foods in Sanya. The famous one is the Wenchang Chicken, and there is many seafood! Of course, there are also many local snacks which are worthy your taste.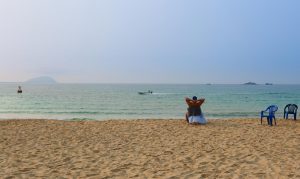 Comprehensive evaluation: Yalong Bay is more prominent in the bays of China, but it cannot be a leader in the attractions of Sanya. But it is still worth a visit. And Yalong Bay Tourism Zone is very suitable for family tour! The sky is so blue, the water is so clear, the air is so fresh, and the marine entertainment is also very complete, which will make your tour in Yalong Bay very enjoyable.