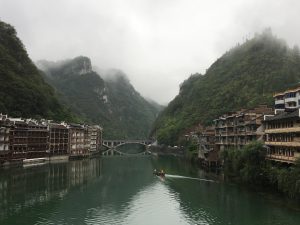 When you get off the train, you will see the bus 1-6 straightly to the Zhenyuan ancient town, and reach the new bridge in ten minutes. The whole town has developed into a tourist city. The street in the ancient town is the snacks street, and the other street mainly features souvenir and clothing stores. In the off-season, there are many choices for the inn, but the hotels near the river are more expensive. Commercialization is beginning to be at scale, souvenir shops are expanding, night scenes are more beautiful, but the bar are also very lively. The sunset near Zhusheng Bridge and the New Bridge is beautiful. Qinglong Temple also is worthy your visit if you are interested. If you want to see the panoramic view of the ancient city, you can climb the mountain along the Sifang Street. There are also many ancient houses in the alleys to visit. They are very special. If you don't take the boat, it will be enough to arrange 1 day for your trip in Zhenyuan Ancient Town.
Zhenyuan Ancient Town is still worth visiting. If it is not very far away, you can go to there during the National Day. You don't need to purchase the ticket to enter the ancient town. The consumption is not high, it is very acceptable. Inside, you can climb mountains, take a boat trip on the river, you can play a lot of things there. The whole ancient town is not big, but the scenery is very good, especially the river is very comfortable to view. You will like this non-charged ancient town, which will be more and more lively and funny, and the atmosphere is awesome there.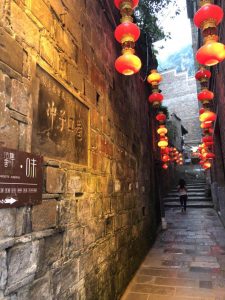 The ancient city is very clean, the roads are all paved with blue bricks and stones, and there are colorful flowers on both sides. The houses on the rivers were originally hanging houses of the residents. In recent years, they have been converted into bars or restaurants, and there also added trails, planted willow trees. Squatting by the river in the afternoon, soaking a cup of tea and sitting in the shade of the trees, looking at the green hills and hanging buildings on the other side, it is really a very enjoyable thing during your trip in Zhenyuan Ancient Town.