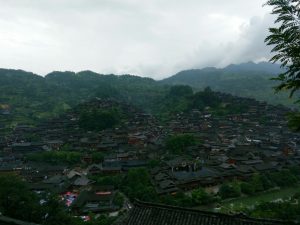 Xijiang Miaozhai is known as the world's largest Miao Village. The whole scenic spot is really big, but the sightseeing is mainly concentrated in the commercial street and snack street, then the wind and rain bridge and the observation deck. The rest are the residential areas of the farmers. When you arrive at the gate of the scenic spot, you must first take a tour bus to enter the north Gate, and then you really enter the scenic spot.
What is not so good in the Xijiang Miao Village is that the place to stay is generally concentrated on the hill behind the wind and rain bridge, and there is no bus available from the north gate to the wind and rain bridge, so you must walk. It is very tired to drag the luggage on the bluestone road, and it is not easy to go. You can rent a car, but it is not cheap. So, if you live in the scenic area, try to be as simple as possible, don't bring too much. The night view of the scenic spot is still quite beautiful. You can take the sightseeing bus directly from the wind and rain bridge to the viewing platform, or live in a hotel with a private viewing platform. The lights are dim but very romantic.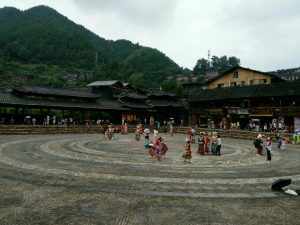 From an objective point of view, Miaozhai industry is basically contracted by a tourism company. In Miao Village, you can rent their famous costumes for a day, or you can climb the mountains to see the water, and you must taste the local long-tables banquet, which is a special feature in the village. In addition, other specialties can also be tasted. At night it is best to stay overnight in the village. On the mountain in the evening, you can look down on the whole Miao Village. You can also watch local performances. If you have a camera, you can buy a VIP position, which is especially good for photography or shooting. Finally, go to the second door from the East Gate to the North Gate, there is a small hill road where you can go directly into Miao Village.