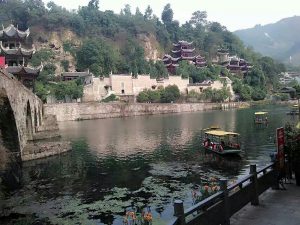 Qinglong Cave is located on the Zhonghe Mountain in the east of Zhenyuan Ancient Town. It is backed by mountains and faces with waters. It integrates Buddhism, Taoism and Confucianism together. The magnificent ancient buildings are built on the wall and are simply a replica of the Hanging Temple. Different from the traditional buildings that are built from the bottom to the up, the earliest building of Qinglong Cave, Jade Emperor Pavilion is built close to the main hole of Qinglong Cave. It overlooks the ancient town of Zhenyuan. The Wuyang River forms an S-shaped curve here, which is suitable for the Taoist Eight Diagrams Feng Shui. Since then, the buildings have been built from the top to the bottom on the basis of the Jade Emperor Pavilion, which has finally formed the Qinglongdong ancient buildings. Today's Qinglong Cave is an excellent place to enjoy the charm of the Wuyang River. It is also like a long scroll of mountains and rivers hanging on the Wuyang River.
Qinglong Cave is the best place for Feng Shui in Zhenyuan Ancient Town. You can see the best and most beautiful scenery of the whole town from the highest point of Qinglong Cave. At the same time, you can understand why it is called Taiji Ancient Town! Although it is called Qinglong Cave, it is actually a Taoist architectural complex, and the architectural design is unique and worth seeing. In short, since you come to Zhenyuan, you must come to Qinglong Cave! The place is very charming, and the commercial atmosphere is not strong.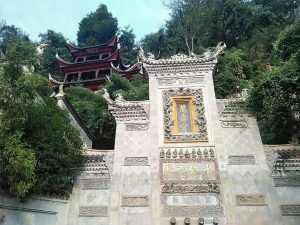 The Qinglong Cave Scenic Area is opposite to the Shiping Mountain. The scenic spot is dominated by the Wanshou Palace. The pavilions and temples are surrounded by mountains and waters, which is like a hanging temple. From the far away, the buildings in Qinglong Cave are unusually spectacular. The buildings are almost built on high mountains and rocks. You will feel shocked and sighed with the craftsmanship of these unnamed craftsmen!