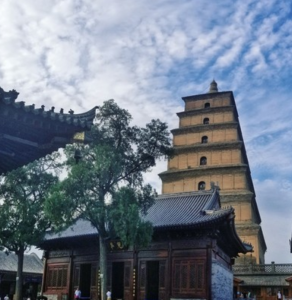 At the 38th World Heritage Committee meeting in Doha, Qatar, the Big Wild Goose Pagoda being one of the "Silk Road: Chang'an-Tianshan Corridor Road Network" jointly sponsored by China, Kazakhstan and Kyrgyzstan, was successfully listed on the World Heritage List.
When you travel to the Great Ci'en Temple, in fact, is to see the Big Wild Goose Pagoda. Like the Bell Tower, the Big Wild Goose Pagoda is also a landmark in Xi'an. The Big Wild Goose Pagoda is one of the few existing Tang Dynasty buildings and the largest existing Tang Dynasty brick tower. From the Big Wild Goose Pagoda, you can see the shadow of the development of the tower in China: from the initial Indian stagnation style, to the localization of the Big Wild Goose Pagoda, and with some brick towers that block the shadows of the slopes, and then to the wooden towers that were completely Chinese.
In addition to the entrance ticket to the gate, boarding the Big Wild Goose Pagoda will also line up for security check-in and ticket purchase, and the rest will be full of respect for the Tang culture. The stairs are a bit steep, but it seems that every scene above is changing. A group of tourists climb the pagoda and feel the magic of the Chinese culture to them. They really worship from the heart, and even record the feelings and cultural knowledge in their notebooks every step of the way.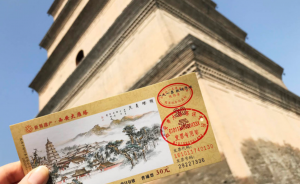 During your trip to the Big Wild Goose Pagoda, it will be better for you to hire the tour guide, after listening to the introduction, you will know more about its history, and for the explanations in the pagoda, maybe because they are all learning Buddha, the articulation is very clear and logical, the speech is not bad, the listening is very comfortable. If you notice, you will find that there are inscriptions from the Ming and Qing dynasties on the walls.