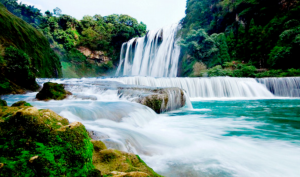 Guizhou Province is located in the southeastern part of southwestern China, adjacent to Hunan, Guangxi, Yunnan, Sichuan and Chongqing. The provincial capital is Guiyang. The landforms of Guizhou Province are mostly mountainous. It is the only province in the China that does not have plain support. Guizhou features quaint and picturesque scenery, and it is one of the most typical areas of karst landform development in the world, with the most colorful karst landscape. Famous scenic spots include Huangguoshu Waterfall, Chishui Danxia, Zhijin Cave, Hongfeng Lake Scenic Area, Fanjing Mountain, Zunyi Meeting Site, etc.
The Huangguoshu Waterfall river flows from the cliffs of more than 70 meters high to the rhinoceros pool, causing a loud bang, such as thousands of people drumming, ten-thousand horses running, creating a magnificent scene.
The tour team's route is generally from steep slope pond to Tianxing Bridge to Great Falls, after eating lunch at the Star Bridge, they will go to the Great Falls, so in the morning, there will be the most visitors in the Star Bridge, and in the afternoon, there will be the most people in the Huangguoshu waterfall. In order to avoid the peak of the crowd during the peak season, it is necessary to travel at a different itinerary. You can go to the Stars Bridge at 16:00 pm, when there will be few people there, do not go out with the tour group when going to Gao Laozhuang. Then for the following itinerary, the Star Cave, the Silver Chain Falls Waterfall, and the water stone forest are the most essential.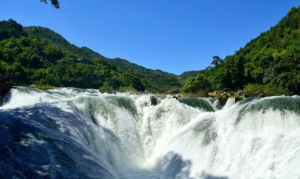 The Great Falls We entered at 6 o'clock in the morning, and there were almost no ones. When If you can get up earlier, you can enter into the Huangguoshu Waterfall scenic spot at around 6 o'clock in the morning, when there are really not so many people there so that you can enjoy the charm of the scenery quietly. And you can return to the hotel to sleep again when it is 8:00 in the morning, which is the time that there are crowded people entering the scenic spot.