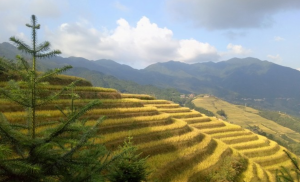 The antique buildings at the entrance of the Longji terraced fields reflect the vitality of the mountain. The large green image is a splash of ink on the rice paper. If you feel tired, you can take the cable car up the mountain and enjoy the scenery along the way. The feeling of joining the green hills and green shadows is amazing.
Looking out into the distance from the foot of the mountain, the little cable car hangs on the thin line and slowly moves back and forth, like a naughty elf who is free to shuttle through the jungle.
Along the way, you can view the clear stream, which will make you excited, and you couldn't help but squat and take a bite of the cool stream water. It will wipe off the tiredness of the mountain climbing.
After the rain, the sky is still gray, the mist hangs over the distant peaks, and the large-scale green terraces are progressively shaped to reflect the beauty of the mountains, which makes the Longji Rice Terraces more magnificent and spectacular.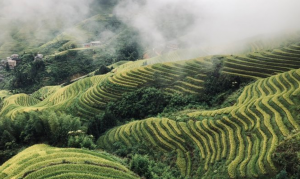 For the green terraces at the foot, the majestic green waves of the mountains and the seas are straightforward. The breeze is coming, and the fragrance of the sweet-scented osmanthus in the wind is floating in the wind. It seems that the reputation of "the crown of the world of terraces" is really well-deserved.
When you enter the ticket office of Longji Town, you will start to buy the tickets of 100 yuan for the scenic spot. From the ticket office of the scenic spot to the cableway, you need to purchase 40-yuan ticket for the scenic traffic car. It is about 50 minutes' drive to the cable car station. Longji Rice Terraces for people who like photography or travel will be very familiar. However, there is no guiding signs for the Longji terraced scenic spot. The terraces are really spectacular and beautiful! And there will be different scenery all year round, it is worth a visit!