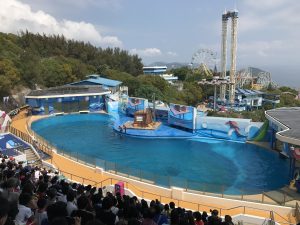 Ocean Park Hong Kong is a world-class theme park that combines sea and land animals, mobile games and large-scale performances. It is also one of the most popular theme parks in the world. In 2012, Ocean Park Hong Kong competed in the world's best theme park competition, and it has defeated the French "madman" theme park and the US "Santa Cruz" to be named "the world's first theme park", and becomes the first theme park in Asia to receive this honor.
Ocean Park Hong Kong is located in Wong Chuk Hang, South District, Hong Kong Island. The Nangang Island Line, which opened at the end of 2016, makes your trip to the Ocean Park super convenient. As the transit station of the Nangang Island Line, as long as you take the subway to Jinzhong Station, you can see the scenery of the Ocean Park after you arrive at the Ocean Park Station. You can directly enter the scenic gate by a special flyover. This is the fastest way to go to the Ocean Park.
Opening hours for the Ocean Park Hong Kong: daily from 10:00 to 18:00 (summer extended to 23:00); ticket price details are listed on the official website, and you can take one ticket to play all the projects in the park. It is recommended to take a day to play in the park, after all, Ocean Park Hong Kong belongs to the world Level theme park, it's not fun to play without 1-day time.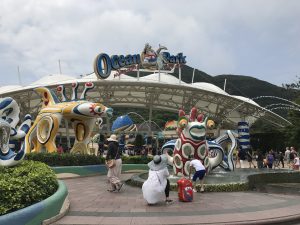 The park opens at 10:00, tickets can be bought on-site, but it is recommended to buy online in advance, as online ticket purchase is much cheaper than on-site ticket purchase, and there are relatively large discounts from time to time. There are maps and performance time at the entrance of the park. You can also download the app of Ocean Park. There are also maps and performance time. You can also know the queue time of the attraction, the attractions that have been temporarily closed and some coupons on the App.