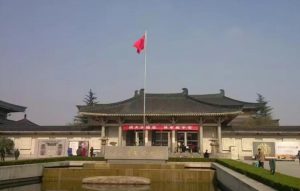 After entering the museum, you will first come to the first exhibition hall, which mainly talks about the primitive era. Listening to the explanation, you will see a lot of chic pottery in beautiful shapes, and a variety of production tools. Then it will be the exhibition hall of Qin, and follow by the exhibition hall of the Han Dynasty. And there are Vatan and Han tomb figures in the hall. The Jade Cicada inside is usually made of the Xinjiang jade, which is pure and free of impurities, crystal and clear.
Entering the mural museum, the entire hall is black and lacquered, only some lights are on display. These showcases are not simple. Because they are not available in China, they are made up of huge amounts of money from Italy. The air-flowing, year-round thermostat showcases are almost identical to the showcases that preserve Mona Lisa in the Louvre. This can preserve these precious artifacts well.
What you will see next is a mural with eunuchs. The eunuch is extremely ugly, his eyebrows are slightly higher, his eyes are amused and his mouth opened.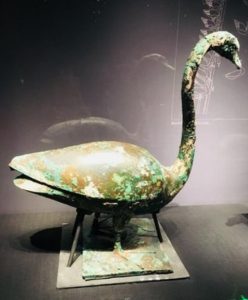 The hunting mural is the most shocking. Thousands of horses and armies are surging, and it seems that the earth is shaking. The red and yellow flags are floating in the wind. Some people immediately turned their heads to look at the partners, some took the reins, kicked the horses, and strove forward, some let go of the reins, raised the flags, and let the horses run freely. All the horses are majestic, powerful and handsome. The whole picture will let you vividly feel the scene that is shocked when hunting.
The most popular mural there, is also the most classic, best-preserved, and most valuable mural in this museum, it is the Las Meninas (nine people), which is from the tomb of the Princess of Yongtai. There are nine people in this picture, each with different looks and actions to make it special and charming.