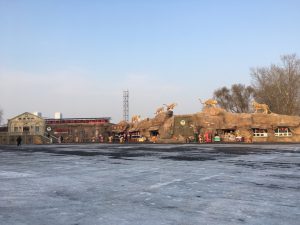 Located on the north bank of the Songhua River, Siberian Tiger Park covers an area of 360,000 square meters. It is currently the world's largest Siberian Tiger Park. In the park, there are 10 visiting spots including the wilderness and domestication area, adult tiger area, little tiger area, tiger king area, bred tiger area, liger area, African Lion area, Pedestrian Area and tiger viewing platform etc. You can watch more than 100 purebred Siberian tigers. Tourists choose to sit in the ordinary sightseeing car to find the tigers, or increase the price by 20 yuan to change to a thrilling sightseeing feeding car, which is surrounded by a large iron net, and whose body is very heavy, and it is specially designed for the close feeding of the Siberian tiger.
Siberian Tiger Park is adjacent to the Sun Island Scenic Area and is a park that is built to save and protect the world's endangered species, the Siberian Tiger. Tickets for the Siberian Tiger Park are 90 yuan/person. It seems that it is not cheap, but thousands of tigers in the garden need food, so the tickets are not too expensive. When visitors are playing in the park, they can take a special tour bus and visit the tigers in the adult tiger area. You can also watch the living conditions of many Siberian tigers in close distance on the viewing platform and sightseeing channels.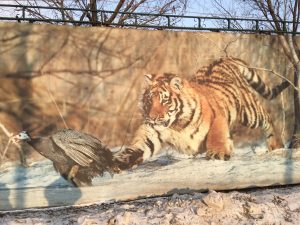 If you are interested, you can buy live chickens and live sheep at your own expense and watch the real scenes of the tigers seizing the food. The only bad thing is that the price of live chickens is slightly higher, and the tourists are not too active. The circus is still very exciting.
Tickets can be ordered online, which can be used only 15 minutes after the reservation. It is cheaper than buying it on site.