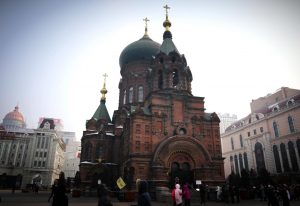 Founded in 1907, St Sofia Orthodox Church is a landmark in Harbin. Its green onion-shaped dome is very eye-catching. Although this magnificent Byzantine building no longer has the function of a church, is it still attracting everyone to come and visit.
St Sofia Orthodox Church is a relatively complete Byzantine building in China. Although it was renamed "Harbin Architecture Art Museum" in 1997, it is more likely to call it "St Sofia Orthodox Church" for locals and foreign tourists.
The more striking part of the church is the huge 48-meter-long onion-shaped dome, which is a typical Russian architectural roof form that is magnificent and can be compared to the Saint Basil's Cathedral in Moscow. The walls of the church are made of clear red bricks. There are four tents of different sizes around the big dome. There are stairs connected between the four lower floors. There are four doors in the front and rear of the church for people enter and go out.
After the church was converted into an art gallery, it was internally remodeled, and it has reflected the history, current status and future of the famous city of Harbin by displaying nearly a thousand pictures and urban planning sand tables. However, after the reconstruction, the original pattern was destroyed, and the function as a church has disappeared.
There are "square pigeons" in the square in front of the church. There is also a large series of musical fountains. The locals like to take wedding photos here. Compared with the scenery in daytime, the night view of the church is more beautiful. When the night falls, the church is more magnificent and mysterious and full of exoticism.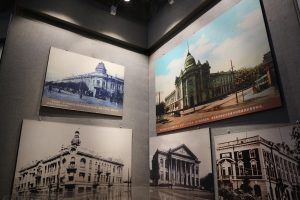 The St Sofia Orthodox Church is really magnificent. At the top of the main entrance is the bell tower. The church building is arranged in a Greek cross. It is influenced by the Byzantine architectural style. The main dome and the bell tower also have the traditional Russian "tent top" and "onion head" shape!